Travel Therapist Interview: Candace
We interrupted Candace S., SLP's 25-hour drive (and string of audio books) on her way from Kansas City to her next contract in Spokane, Washington, to ask about her travel therapy experience. A three-year travel SLP veteran with Cariant Health Partners, Candace has made the most of her travel contracts and enjoys the flexibility they have awarded her.
What led you to travel therapy?
I graduated in May 2013 and went right into travel therapy, so Cariant was my first employer. I grew up playing travel sports and I get stir crazy when I'm in one place for too long. In grad school a teacher of mine had done travel therapy before settling in Kansas City and introduced me to the thought—it sounded perfect! I could do the job I want to do, see new places, and travel, AND get paid to do it. I'm on my seventh assignment now.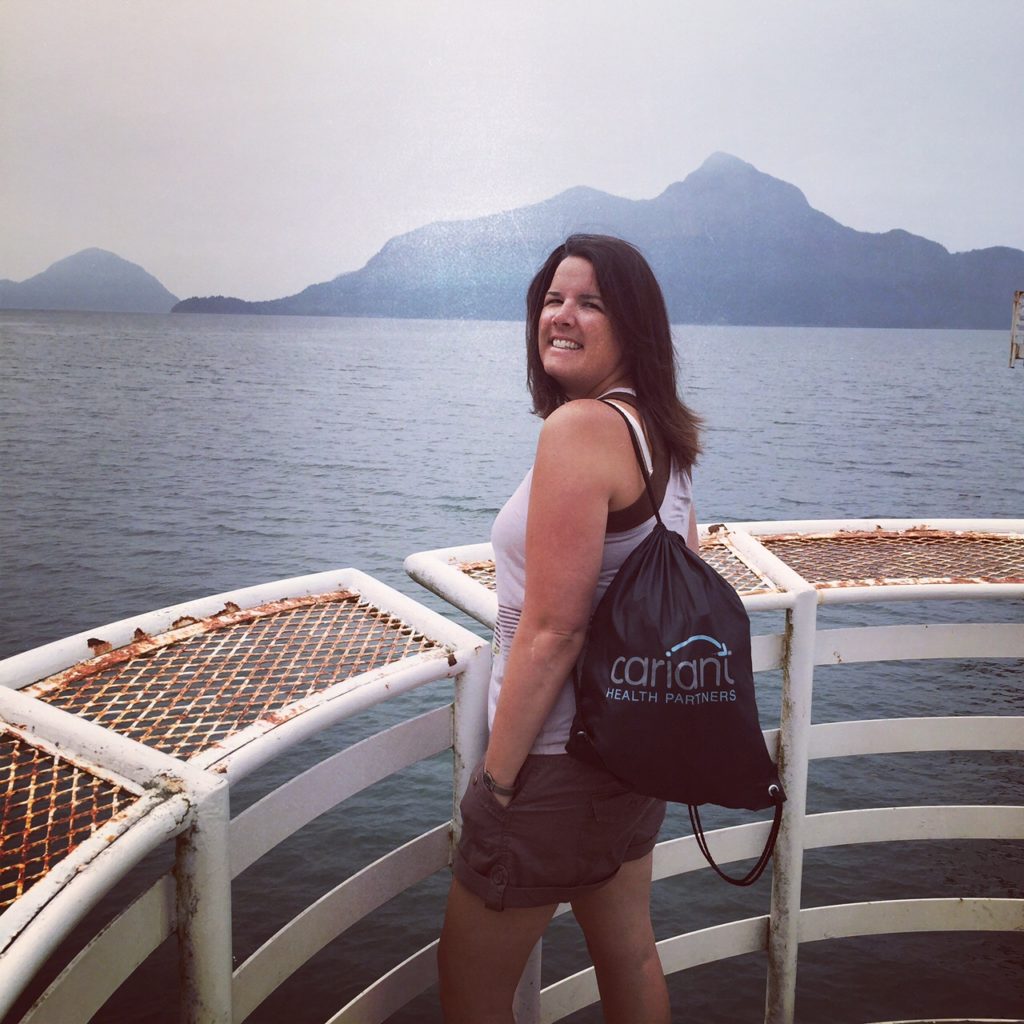 I heard you spent a year in North Dakota?
Yes, in Dickinson. I was there for a little over a year because I completed my nine-month Clinical Fellowship (CFY) as my first travel therapy contract. The facility didn't have anyone lined up full-time when my CFY was up, so I agreed to stay on past a year.
From what I've gauged it is unusual for someone to complete their CFY through travel therapy. To complete a CFY you need to have supervisors, and usually travel positions are available because they lack staff. So I kind of lucked out that I got both a hospital position and had a supervisor. I feel extremely fortunate to not only have been a traveler during my CFY, but also that it was in a hospital setting—my clinical background was in acute hospital.
Have you found there to be many clinical benefits to travel?
Tons! I've only been doing this for three years, but when I think back to everything I've seen because of all the different environments it's been really great. I talk to colleagues who I graduated with and many of the things I've done they haven't even seen yet. Travel has really helped me grow as a therapist. My arsenal grows with each new building and setting, and I like that my skills won't get stagnant. With travel there is always something new. I might run into similar diagnoses, but something is always new and that keeps me intrigued.
Is that what keeps you traveling?
I think it's the allure of travel. I've always liked change, I guess. The job is the same and I don't fear anything about my job changing, but I like the opportunity to see new places and meet new people. And I like the "light at the end of the tunnel" factor, so-to-speak. If I encounter a contract that is not the best fit, I know I'm not there forever.
Do you have a bucket list of states?
Not really, but I always knew I wanted to go to the Pacific Northwest (PNW). So when my recruiter Tracey called and said something was available in Tacoma, Washington, I went there straight from Dickinson. Next was Coeur d'Alene, Idaho. That was a beautiful area, and I did an extension there, too. Then two assignments in Spokane, Washington. I came back to Kansas City for a while, but now I'm headed back to Couer d'Alene and will commute to Spokane for this contract.
Also, when I first started there were areas of the country where I knew people, I wanted to visit those places first as kind of a security. Now I'd like to branch out farther and plan on getting my California license. I'm not opposed to anywhere really, but I like to pick my places wisely. I experienced a negative 50 degrees Fahrenheit weekend in North Dakota that first year. It was insane! But overall I've managed to have good weather wherever I go—minus coming home and having to deal with tornadoes.
What do you do when you're not working?
I'm generally up for anything! I do like the national parks. When I was in North Dakota I drove down to see Mount Rushmore. And I've been out to parks in the PNW. Their lakes are amazing! I like to fish, and just see what's going on in the area. Once I drove out as far west as I could and ended up in Ocean City, Washington. I want to see things I'd never get to see in the Midwest.
When I'm not traveling for work I travel for fun. I try to take a trip once or twice a year. I just went to the Dominican Republic this last spring. And I've been to Mexico and Canada. Canada was when I went to the Women's World Cup with a friend. Being a sports enthusiast, that was one of the coolest things I've ever done in my life! And most recently, over Memorial Day weekend, I drove with a friend from Kansas City down to Corpus Christi, Texas to see the USS Lexington (it was huge!) and then stay in San Antonio for three days.
That's a lot of travel!
I love traveling and think it's great. I don't mind driving these far distances. A lot of people are surprised at that—but it is fun in and of itself. Sometimes my friends or parents come along. I think when I first got into travel therapy my parents were hesitant, but now they get little vacations because they'll come and visit me on assignment.
The flexibility is another awesome part of the job. I have a nephew who is eight. With travel I can schedule my work around Christmastime or other major events in his life. I might not get to do that with other types of jobs that require PTO hours. With travel, if I need a two-week break, I can make it happen.
Interested in learning more about travel therapy? Email info@cariant.com, or contact a Cariant recruiter.